Plan Your Visit
Main Street Children's Museum
1st Play Sessions: 9 a.m. - 11:30 a.m.


CLOSED 11:30 a.m. - 1 p.m. for cleaning.

2nd Play Session: 1 p.m. - 3:30 p.m.

Only Open for Birthday Parties
Tuesday & Friday play session availability are subject to change due to group bookings.
Closed on New Year's Day, Easter, Juneteenth, Independence Day, Veterans Day, Thanksgiving (and the day following Thanksgiving), Christmas Eve, and Christmas Day.
A Day At Main Street Children's Museum
Online Ticket Sales Cutoff

8:30 a.m. for the 1st Play Session

12:30 p.m. for the 2nd Play Session

Walkup Ticket Sales Cutoff

11 a.m. for the 1st Play Session

3 p.m. for the 2nd Play Session
Groups are welcome at all Culture & Heritage Museum sites. Group visits involve 15 or more people and must be scheduled in advance.
Group Tour Information
Guided tours and special programs are available for groups at an additional charge per tour or program; groups requesting special programming must make reservations at least one month in advance.
Chaperones pay the regular admission price, which includes any special program fees, if applicable.
Memberships cannot be used for or in conjunction with group admission.
Reservations
For additional information or to make reservations contact:
Scheduler: 803.981.9182
Email: scheduler@chmuseums.org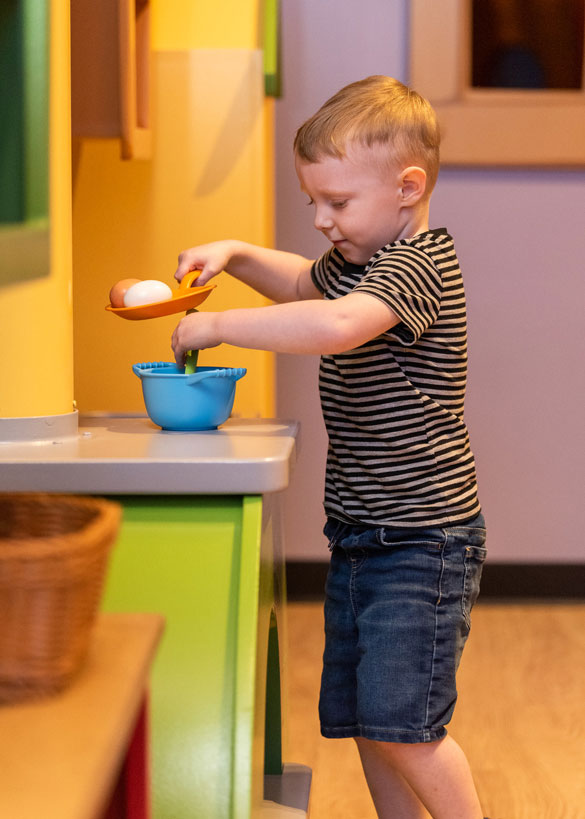 Is the museum handicap accessible?
Click here to view accessibility information for Main Street Children's Museum. 
Are pre-registered tickets refundable?
Pre-registered tickets are non-refundable and will be considered as a donation to the museum.
I purchased tickets in advance but now I need to reschedule, what do I do?
Please call (803)327-6400 and one of our visitor services associates will assist you.
May I leave and return in the same day?
Since admission to the museum is split into different play sessions, you may leave and return within the same play session. Please keep your receipt or reservation email to show to the Visitor Services staff member at the front desk for re-entry. If you would like to return for a later play session, you will need to purchase tickets for that session as well.
Do adults have to pay?
Yes, adults are required to pay admission.
Can adults enter without a child?
No. All adult visitors must be accompanied by a child to enter Main Street Children's Museum.
Can I bring my stroller in?
Yes, you may bring your stroller. There is also dedicated stroller parking in the museum.
Is there a dedicated space for nursing mothers?
There are benches available for nursing mothers in the back of the museum near the family restrooms.
Do you host birthday parties?
Yes. To learn more about our birthday parties click here.
Do you offer group rates/ field trips?
Yes. To learn more about our group programs click here. To learn more about our field trip offerings click here.
Are pets allowed?
No, pets are not allowed in the Museum. Service animals are always welcome.
Emotional support animals, comfort animals, and therapy dogs are not service animals under Title II and Title III of the ADA and are not allowed in the Museum.
Is there a place to eat/have snacks on site?
Food and drink are not allowed in the museum, with the exception of bottle-fed or nursing infants. However, Main Street Children's Museum's downtown location puts it near several restaurants, cafes, and public parks that are within walking distance.
Address
133 E Main St.
Rock Hill, SC 29730